A planted aquarium is often considered as one of the best forms of aquariums and as you have guessed, the plants form a big part of such an endeavor. You can go for the usual method of purchasing plants and then planting them in the aquarium but this method comes with a lot of caveats such as the relative difficulty of getting an even spread of the plants and the higher mortality rate. An alternative is using seeds which can give a much more desirable result and here are some of the seeds available with us.
Aquarium Dwarf Grass Seeds (Eleocharis Parvula): If you want a lush carpet that is relatively easy to grow then this is your best bet. Germinating Aquarium Dwarf Grass Seeds is a straightforward affair if you have a nutrient heavy substrate. CO2 dosing isn't mandatory but can be beneficial. The Aquarium Dwarf Grass can grow quite quickly once it gets established and therefore requires regular trimming.
Mini Dwarf Pearl Seeds (Hemianthus Callitrichoides): The Mini-Dwarf Pearl is another alternative for a carpet plant and it gives a leafier look to the carpet. It stays quite small at a maximum height of 3 cm or 1.2" and thus does not require trimming. It does need a fine substrate that will allow its delicate roots to spread. It also requires some form of CO2 injection, high levels of lighting and water flow for ideal health.
Mixed Aquatic Seeds (Short grasses, Small Leafs): This is a collection of foreground and carpet plants all of which are easy to care for and are best suited for someone who is looking for some variety in their planted aquarium. All these plants require moderate lighting and water flow and do not require CO2 injection. This pack contains the seeds for Dwarf Baby Tears, Dwarf Hairgrass, Marsilea Minuta, Anubias Nana, Pygmy Chain Sword, and Dwarf Sagittaria.
Marimo Algae Seeds (Aegagropila linnaei): This is one of the coolest addition that you can make to your planted aquarium. It is not exactly a plant, but a form of algae. These moss balls are velvety soft to the touch and require decent levels of lighting. They propagate by splitting and make for a great oddball specimen in a planted tank.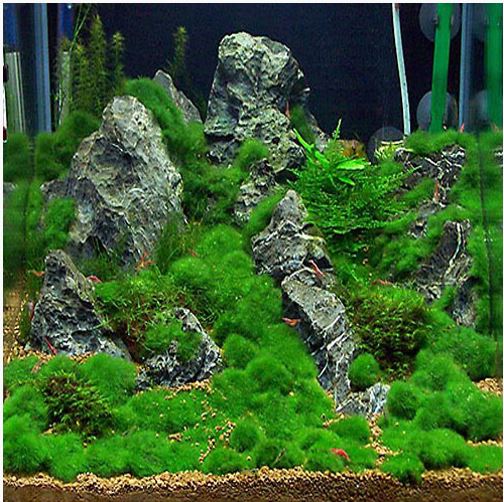 Colorful Aquatic Mini Leaf Seeds: When we think of a planted aquarium, we immediately picture something green. However, the best planted aquariums tend to incorporate other colors as well to produce a nice contrasting effect. This pack consists of 50 seeds and you can choose from one of the four colors of electric blue, teal, royal blue, and pink variants for a truly spectacular aquarium. Keep in mind that these plants do require moderate to high lighting, CO2 injection and adequate water circulation.
Bucephalandra Seeds: The Bucephalandra is one of the most beautiful plants in the aquarium hobby. It requires high levels of lighting and CO2 injection along with fertilizer dosing. This is one of the more challenging plants to grow but equally rewarding too. Water flow should also be strong to ensure that the Bucephalandra can get the best conditions for its growth.
Brazilian Pennywort Seeds (Hydrocotyle leucocephala): This is one of the easiest to keep plants and your best bet if you are planning to start your first planted aquarium. It can withstand many different water conditions and isn't too demanding when it comes to lighting or fertilizer requirements. All this does not mean that the Brazilian Pennywort is unattractive. If anything, it is quite pretty and makes for a great foreground and midground plant.Water Lily Lotus Pond/Bowl Seeds (Nelumbo Nymphaea): The Water Lily Lotus is meant for ponds or bowls and makes for a beautiful centerpiece. They are easy to grow thanks to the fresh and viable seeds provided by us, ten of them, that you get in each pack. The beautiful and majestic flowers can bloom for two full months under ideal conditions.
Get the Scoop on Fishtank Aquarium keeping before You're Too Late
Aquariums often arrive with other junk. They usually come with simple, standard filters that you will need to upgrade if you want to give your fish the best living conditions. Your aquarium has to be ready for the shift. Although the aquarium isn't flashy or visibly technologically complicated, it's still quite wonderful. A best aquarium is going to have all 3 zones occupied. Following this point, if you've got a bigger aquarium, it is all up to you what you decide to enhance your aquarium based on what you think may be required. Whether you are beginning a new aquarium or rehabilitating a present tank it's sensible to find a notion of what type of fish you want to stock.
Your aquarium isn't overcrowded though. Some fish help to keep it free from algae and excess food such as the Plecostomus and Chinese Algae Eater. Keeping a tropical aquarium may be rewarding experience. A large domestic aquarium is very good, but if space is restricted, a mini-aquarium is going to do.
Fishtank Aquarium - What Is It?
As you are waiting, find out more about the varieties of fish which are available, and make a decision as to what you wish to get started with. While you might be adding juvenile fish, you need to understand their adult length as it is the `inch' number you are going to want to use. Lastly, it's very hard to locate compatible fish to keep with oscars. Then again, it could just mean more fish to select on him. If you neglect to read about that, you are going to wind up having injured or dead fish. Sometimes the kind of fish you want will dictate what sorts of substrate you must use. Coldwater fish make an instant colourful and appealing display.
Make certain to use a test kit before you place your fish in the tank. For this technique of cleaning, you should relocate your fish to a holding tank. Fish are among the absolute most under-appreciated pets that you can own. It is essential that you simply purchase a couple of fish at first, based on the size, before adding more fish. As a beginner, you wish to select the tropical fish that supply you with the very best possibility of success with your home aquarium. Some varieties of freshwater tropical fish are simple to watch over and some are difficult.
You might not believe it now, but the larger the tank, the simpler the maintenance! Fish tanks can easily begin smelling if proper care isn't taken. Cleaning a fish tank is a significant portion of keeping a wholesome fish tank. A 55-gallon fish tank is going to be the focus of any room.
When you go searching for your tank, you will discover that aquariums arrive in all shapes and sizes. While fish tanks don't require a great deal of maintenance, you will want to place some work into taking care of your tanks to keep them a clean environment which will continue to keep your fish healthy and happy. Possessing a fish tank can be an extremely rewarding experience and it can be amazing to start looking into your aquarium and see all the amazing inhabitants move about and go about their everyday business enterprise. Establishing a tropical fish tank can be fun but you also need to take into account some essential things before you begin.
The Dirty Facts About Your Fishtank Aquarium
Once you get your aquarium positioned in an appropriate location in your house, like against a living room or office wall. It is vital to watch the aquarium for no less than a few minutes after everything is done to be sure everything is alright. Keeping up a saltwater aquarium can be an enriching experience together with a stress-relieving avocation. Even the more affordable saltwater tank aquariums continue to be a good investment of cash, therefore it's well worth doing a little bit of research.
The Little-Known Secrets to Your Fishtank Aquarium
Aquarium keeping can be a fantastic pastime for everyone, and may be particularly nice for a person who is retired or for children who are prepared to learn the duty of pet ownership. Following this point, if you've got a bigger aquarium, it is all up to you what you decide to enhance your aquarium based on what you think may be required. If you're searching for something outside the ordinary, a custom acrylic aquarium is certainly the thing to do.
The Tried and True Method for Your Fishtank Aquarium in Step by Step Detail
With frequent care, your aquarium will appear beautiful all the moment. Although the aquarium isn't flashy or visibly technologically complicated, it's still quite incredible. Aquariums which are home to unique species of fish are called community aquariums.
Fishtank Aquariums for Dummies
Fish have a soothing influence on the mind of a person. As mentioned first prior to purchasing these fish, take a few moments to consider what kind of fish that you would like to introduce into your aquarium. So attempt to bear this in mind as well once you select the very first few fish for your tank.
Up in Arms About Your Fishtank Aquarium?
Fish are among the absolute most under-appreciated pets that one may own. You're probably speaking about this, i tried having this sort of fish and they're indeed durable and tame not enjoy the other barbs. The tropical freshwater fish, can at times be a little more costly than a number of the aquarium accessories themselves.
If you're just beginning with keeping fish as pets, or searching for an extra tank, it's important to understand how to get a used aquarium without getting `hooked' on a poor thing. Guarantee that the feeder will feed your fish at the appropriate intervals, and will hold enough food for the whole period of your journey. Remember down the road, you always have the option to try out raising saltwater fish, after you've come to be an authority in looking after the freshwater ones. For those who have saltwater fish, you have to prepare it to the suitable proportion of salt and water.
Fortunately, if you set your tank up correctly the very first time you shouldn't have to be concerned about an excessive amount of maintenance, but you do have to be sure your tank water quality remains high. To keep the capacity to realize your fish through the glass, you should clean your fish tank about once per week. To put it differently, you must understand how to clean a fish tank. Individuals often forget this step of the way to wash the fish tank, and that's a terrible way that may produce the fish stress. Testing fish tank or aquarium water for ammonia, nitrites and nitrates is among the absolute most important things that you can do to help your fish, no matter what sort of fish you've got.
An aquarium, whether it's in the office or at home, is extremely relaxing and is something which can be captivating for a long duration of time, together with setting off the room as an attractive highlight. Also when you have an aquarium your fish inside it might not be covered either. If you're purchasing your initial acrylic aquarium, you might discover yourself a small overwhelmed by the wide selection of alternatives readily available, and the amount of places that they're sold.
Simply take the opportunity to review the aforementioned items before making your selection and you'll discover the aquarium that's best for your requirements. Hence it's said this form of aquarium is bad for fish. Acrylic aquariums are unbreakable and don't need much maintenance.
Where you purchase your aquarium is not as important than purchasing the most suitable size for the fish that you mean to keep in it. Typically, these Aquariums were of glass but because of the encroachment in plastic know-how they may be available as acrylic fish tanks. They are easily available in glass or acrylic materials in the market. Although the aquarium isn't flashy or visibly technologically complicated, it's still quite awesome. Hexagon fish aquariums are extremely beautiful and decorative but the truth is, they aren't fantastic for fish.
What You Must Know About Fishtank Aquariums
Aquariums have always been part of my home. It is far better depart from your aquarium for no less than a week without fish in it, this will provide the water chemistry time to settle in and adapt, and to begin creating the bacteria required for a wholesome eco-system. Today you can settle back and enjoy your beautiful natural Amazon aquarium for many years to come with minimal maintenance.
Fish are among the absolute most under-appreciated pets that you can own. So it is crucial to determine the sum of fishes to be able to make them available sufficient spaces to contain them all in tank. Due to this, it can be very simple to miss the fish though it's right in front of you. In any event, you receive a very unique tropical fish that could offer you years of happiness and entertainment.
Here's What I Know About Fishtank Aquariums
Not only offer an anti-bacterial effect, but help fishes produce body slime to safeguard themselves from infection and make an essential osmotic barrier in order that they do not dehydrate. Even if you're not actively breeding these fish, it's still true that you need to know more about the diseases for the appropriate care of your pet fish. So there are lots of things that come with purchasing your very first salt water aquarium fish.
The Chronicles of Fishtank Aquarium
The fish ought to have a couple places to hide too. These aquarium fish are divided according to the sort of water they are located in. Semi-aggressive aquarium fish are a bit naughty ones.
Make certain to use a test kit before you place your fish in the tank. For this technique of cleaning, you have to relocate your fish to a holding tank. Aquarium fish will certainly help you calm your nerves and give a peaceful, serene environment in your property.
Aponogeton ulvaceus is one among the many lovely bulb types within the Aponogeton-family and originates from Madagascar. The leaves emit delicate green and clear with fluted margin. One root is able to sprout over forty leaves, 30-60 cm long. This is one of the reasons that the plant is best as a solitary plant in bigger aquariums (the plant becomes up to 60 cm wide).
AQUASCAPING/AQUESCAPING
Aquascaping is a learned art form that enables you to form an underwater landscape, inspiration for several works come from both underwater locations but additionally natural scenes like mountains, jungles, deserts, waterfalls and plenty of others. the largest factor that makes their tanks lovely is knowing the essential principles of aquascaping a planted tank.
Based on their appearance, Bucephalandras are similar to Anubias and Cryptocoryne. Because of their very close appearance to the Cryptocoryne species, they were introduced as their alternative when first introduced into the hobby. Their narrow and olive-colored leaves closely resemble Cryptocoryne with only a few minor differences. Their rhizomes and roots fit the characteristics of Anubias more closely. Bucephalandras can be considered a mix between these two plant species.
I was lucky to have gone to the Aquatic Experience Chicago (actually in Schaumburg) for the last two years now. I met aquarists from around the world with all different interests and specialties ranging from saltwater reefs to freshwater snail species. There were also a few aquascaping competitions that specifically sparked my interest!