A planted aquarium is often considered as one of the best forms of aquariums and as you have guessed, the plants form a big part of such an endeavor. You can go for the usual method of purchasing plants and then planting them in the aquarium but this method comes with a lot of caveats such as the relative difficulty of getting an even spread of the plants and the higher mortality rate. An alternative is using seeds which can give a much more desirable result and here are some of the seeds available with us.
Aquarium Dwarf Grass Seeds (Eleocharis Parvula): If you want a lush carpet that is relatively easy to grow then this is your best bet. Germinating Aquarium Dwarf Grass Seeds is a straightforward affair if you have a nutrient heavy substrate. CO2 dosing isn't mandatory but can be beneficial. The Aquarium Dwarf Grass can grow quite quickly once it gets established and therefore requires regular trimming.
Mini Dwarf Pearl Seeds (Hemianthus Callitrichoides): The Mini-Dwarf Pearl is another alternative for a carpet plant and it gives a leafier look to the carpet. It stays quite small at a maximum height of 3 cm or 1.2" and thus does not require trimming. It does need a fine substrate that will allow its delicate roots to spread. It also requires some form of CO2 injection, high levels of lighting and water flow for ideal health.
Mixed Aquatic Seeds (Short grasses, Small Leafs): This is a collection of foreground and carpet plants all of which are easy to care for and are best suited for someone who is looking for some variety in their planted aquarium. All these plants require moderate lighting and water flow and do not require CO2 injection. This pack contains the seeds for Dwarf Baby Tears, Dwarf Hairgrass, Marsilea Minuta, Anubias Nana, Pygmy Chain Sword, and Dwarf Sagittaria.
Marimo Algae Seeds (Aegagropila linnaei): This is one of the coolest addition that you can make to your planted aquarium. It is not exactly a plant, but a form of algae. These moss balls are velvety soft to the touch and require decent levels of lighting. They propagate by splitting and make for a great oddball specimen in a planted tank.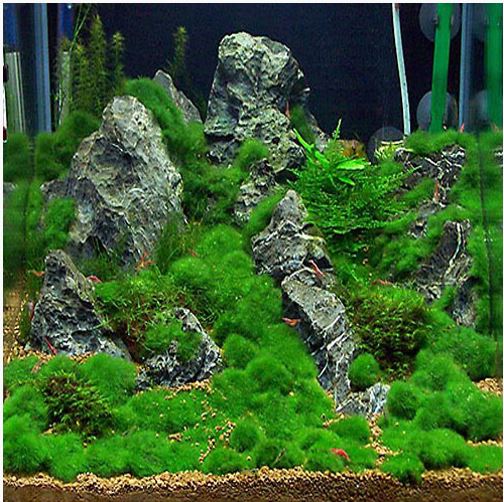 Colorful Aquatic Mini Leaf Seeds: When we think of a planted aquarium, we immediately picture something green. However, the best planted aquariums tend to incorporate other colors as well to produce a nice contrasting effect. This pack consists of 50 seeds and you can choose from one of the four colors of electric blue, teal, royal blue, and pink variants for a truly spectacular aquarium. Keep in mind that these plants do require moderate to high lighting, CO2 injection and adequate water circulation.
Bucephalandra Seeds: The Bucephalandra is one of the most beautiful plants in the aquarium hobby. It requires high levels of lighting and CO2 injection along with fertilizer dosing. This is one of the more challenging plants to grow but equally rewarding too. Water flow should also be strong to ensure that the Bucephalandra can get the best conditions for its growth.
Brazilian Pennywort Seeds (Hydrocotyle leucocephala): This is one of the easiest to keep plants and your best bet if you are planning to start your first planted aquarium. It can withstand many different water conditions and isn't too demanding when it comes to lighting or fertilizer requirements. All this does not mean that the Brazilian Pennywort is unattractive. If anything, it is quite pretty and makes for a great foreground and midground plant.Water Lily Lotus Pond/Bowl Seeds (Nelumbo Nymphaea): The Water Lily Lotus is meant for ponds or bowls and makes for a beautiful centerpiece. They are easy to grow thanks to the fresh and viable seeds provided by us, ten of them, that you get in each pack. The beautiful and majestic flowers can bloom for two full months under ideal conditions.